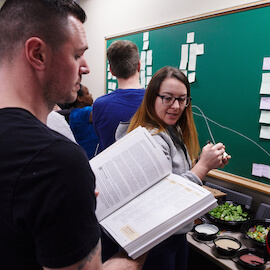 Project managers serve an integral function across a variety of industries, including construction, technology, and event planning. And, for each unique project, skilled managers are responsible for taking the lead in coordinating available resources with the project schedule through effective organization and communication. Project managers' resources include people, budget, materials, and facilities. Their work environment is increasingly team-oriented and virtual.
The Project Management Institute (PMI®) developed credentials that validate the professionalism of project managers based on training, resources, and credentialing. Based on their rigorous standards and continuous research, PMI has become the global leader in the field of project management.
PMI Exam Preparation at Boston University
The first credential that many project managers earn through PMI is the Project Management Professional PMP®—and Boston University's Metropolitan College (MET) offers test preparation for this credential through the Center for Professional Education (CPE).
Format
Presented in a blended format, classes for this credential combine online and face-to-face learning. The first five weeks include one-hour recorded webinars in which the instructor reviews introductory information, best practices, and advice on completing the exam application. The PMP course culminates with three days spent on the BU campus with the instructor in order to review testing techniques, terminology, and concepts.
Have you worked in project management for at least three years? If so, you are eligible to seek PMP certification. This globally recognized credential is considered the gold standard of project management certification, signifying that you have the experience, education, and competency to successfully lead projects. The credential can result in higher salaries and increased marketability.
Led by PMP-certified MET faculty, Boston University's PMP Exam Prep course of study provides full preparation for the PMP Certification Exam.
UPDATE: In March 2020, PMI announced that the the current PMP exam remain through December 31, 2020. The new exam will launch on January 2, 2021.

You can expect to:
Understand PMP certification exam registration requirements
Accurately complete the exam application
Review the PMBOK®, including the:

5 process groups
10 knowledge areas
47 project management processes and associated input and outputs

Prepare for critical test areas and concepts not found in the PMBOK
Concentrate on difficult areas, including analytical and mathematical concepts
Develop effective test-taking and passing strategies
Decode questions for the best answers
Check your progress on a practice exam of 200 simulated questions
Project Management at BU's Metropolitan College
Boston University's Metropolitan College (MET) is a trailblazer in project management education. With its variety of cutting-edge graduate programs in project management, MET prepares qualified, successful project managers to oversee large and small projects in a broad range of multi-national industries. In the classroom or online, high-quality students benefit from academic inquiry, case studies, and project simulations that provide theoretical and practical understanding of the essential elements of project management. The Project Management Institute Global Accreditation Center for Project Management Education Programs (GAC) has accredited the following Boston University programs: the MS in Computer Information Systems, and the MS in Project Management.
Required fields are indicated by .