Real Estate Studies Program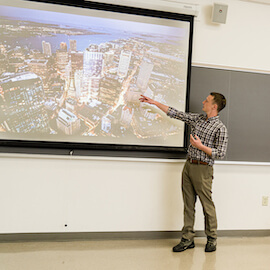 A competitive market requires constant adaptation to stay ahead. For three decades, Boston University's Real Estate Studies Program has led the industry by challenging existing frameworks and introducing thoughtful new ideas.
BU's Center for Professional Education offers four comprehensive programs covering an assortment of topics related to the real estate industry. Our faculty—made up of practicing professionals from a wide variety of specialties—bring firsthand knowledge and expertise to the classroom.
The Real Estate Studies Program offers certificates in the following topics:
On campus:
We are affiliated with the Real Estate Finance Association (REFA) of the Greater Boston Real Estate Board (GBREB) and the International Facility Management Association (IFMA).
Program Details
Program Dates
On campus:
A variety of courses are offered three times a year: September, January, and April. Most courses run for eight weeks.
Online:
Courses will be offered six times per year in September, November, January, March, May and July.
Requirements
There are no specific requirements to enroll in the Real Estate Studies Program. Students may take all of the required courses for a certificate, or opt for a single course.
MET Course Waivers for CPE Alumni
Get a head start on a Master's in City Planning
Master of City Planning students may pursue a certificate program in Commercial Real Estate, Real Estate Finance or Commercial Real Estate Practice at Boston University's Center for Professional Education (CPE). MCP students who earn a CPE certificate in any of these areas will be granted a waiver of three graduate-level elective courses (12 credits) toward their degree.
For more information on BU's City Planning program, please call 617-353-3025 or visit https://www.bu.edu/cityplanning/. For more information on the certificate in Commercial Real Estate or Real Estate Finance, please call the Center for Professional Education at 617-353-4497.
Required fields are indicated by .