About CPE
The Leader in Professional Education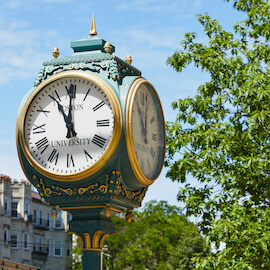 To remain competitive in rapidly evolving industries such as commercial real estate, financial services, fundraising, law, and genealogy—among others—you need to be aware of current and emerging best practices, obtain industry-standard credentials and certifications, and master changing technology.
Whether you're a seasoned industry professional or embarking on a new career path, the Center for Professional Education (CPE) at Boston University's Metropolitan College provides the high-quality education you need to excel at the forefront of your field.
CPE offers a variety of innovative, non-credit programs specifically designed to provide cutting-edge expertise in a variety of industry areas. From examination preparation courses to professional certificates, our flexible delivery formats—evenings and weekends on campus, accelerated intensive courses, and online study—are ideal for busy professionals.
Why Choose BU's Center for Professional Education?
Boston University's CPE programs are well established and highly respected—and open the door to valuable professional credentials.
Each CPE program has been developed by and for Boston University exclusively—we offer a rigorous course of study that cannot be matched elsewhere.
Along with being experienced teachers, CPE instructors are practicing professionals and executives with hard-earned industry credentials and insider knowledge.
Whether in the classroom or online, your fellow students are professionals from the greater Boston community and around the world—with valuable industry networks.
You have the choice of traditional classroom study on BU's Charles River Campus or online programs that offer a flexible, highly interactive learning environment—wherever you may be.
The Sloan Consortium has recognized the quality of Boston University's online programs with the prestigious Award for Excellence in Institution-wide Online Education.
For more information about CPE programs, please email us at cpe@bu.edu, or call 617-353-4497.
Required fields are indicated by .