Funding Options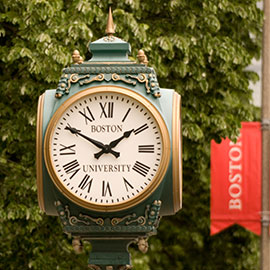 Below, please find information about eligibility for funding, including:
Education Loans
Boston University's Center for Professional Education offers non-degree certificate programs, and they can qualify for private, credit-based loans. Our students are not eligible for federal student loans or deferments on existing student loans.
When considering a credit-based loans, we urge you to compare the information and terms carefully to determine whether this is a viable option for you. We recommend using Credible to do so. Credible is a free online loan selection tool that allows you to compare prequalified rates, terms, and eligibility rules side-by-side in just a few minutes.
You can filter your search to sort on key factors most important to you. For CPE programs, we recommend: "Boston University, Certificate" (under more options), "Less than half-time", "loans with invididual lender" and enter $6,001 (even though your loan will be for less money). After you get possible results, you may see us listed as Boston University Center for Professional Education. (NB If you do not see non-credit programs under its own area in the results, look under the Undergraduate options.)
With your approval, Credible will pull a soft credit inquiry, which will not affect your credit score but will enable you to compare interest rates you qualify for at multiple lenders. Credible assures users that its encryption technology is safe and secure. The Credible privacy policy can be found here. You are not required to borrow from any of the lenders listed in the Credible marketplace. Only you and your family can decide which loan program is best for you. You are not required to borrow from any of the lenders suggested by Credible and there is no penalty for selecting a different lender, if you prefer.
Enrollment is not guaranteed without payment or confirmation that a loan has been approved and will be disbursed.
Funding for Online Courses
Please contact the appropriate partner agency to find out about payment options for third-party payments, such as your employer, or 529 funds:
Funding for U.S. Military Personnel and Veterans
Boston University accepts payments by military personnel through Veterans Benefits. Check with your VA education counselor to learn the specifics of your VA education benefits. Students who wish to use these benefits should contact CPE directly.
Veterans
If you have sufficient credits available in your GI Bill® fund, you may register for our approved programs.
To enroll in the program and receive reimbursement through the GI Bill®, please:
Contact CPE for the appropriate form for the program you wish to take. Contact cpe@bu.edu or 617-353-4497, for assistance.
Fill out the proper paperwork (VA 22-1990) with the government and send it to the Department of Veterans Affairs. You can find and print out the form (VA 22-1990) for the VA office here.
Mail or fax a copy of your VA 22-1990 form to Boston University's Center for Professional Education
Do not email any paperwork to us with your social security number on it.
Once the financing is in order, we can enroll you in your class.
If you need additional assistance, please call the VA toll-free number 1-888-GI-BILL-1 (1-888-442-4551) to speak with a Veterans Benefits Counselor.
GI Bill® is a registered trademark of the U.S. Department of Veterans Affairs (VA). More information about education benefits offered by VA is available at the official U.S. government Web site at https://www.benefits.va.gov/gibill.
Government Agency Sponsorship
The following government agencies sponsor students who qualify. If you are a government-sponsored student, please provide an official letter issued by the agency specifying the student name, the approved class, and the amount to be paid to Boston University on your behalf. Your seat in a program is not reserved until this documentation is received and approved by the Center for Professional Education.
Contact these agencies directly for more information:
Pell Grants, Student Loans, and Other Funding
Center for Professional Education courses are non-credit, and do not qualify for Pell Grants or other federally subsidized student loans that use the FAFSA Form.
Required fields are indicated by .