About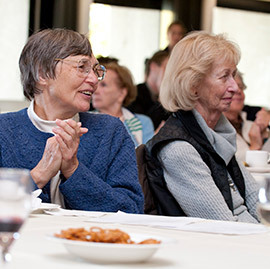 If you're seeking fresh knowledge, new friendships, and a vibrant, intergenerational community—and you are 58 or over—then join the Boston University Evergreen program.
As the name implies, Evergreen offers opportunities for continuous growth and engagement. We invite you to stretch your mind and feed your passion for knowledge through our seminars—all conducted by Boston University faculty and expert guest speakers from outside the University. You'll hear informed perspectives on a range of meaningful topics, both current and historical, and witness performances that enlighten and inspire.
Evergreen also provides a valuable opportunity to share in and contribute to the Boston University student community. Many undergraduate and graduate courses are available for auditing, and welcome your participation on a noncredit basis. You'll discover that students of all generations benefit from the diversity of ideas, perspectives, and experience present in the classroom.
You're qualified to audit courses and/or attend Evergreen seminars simply by being 58 or older. No educational credentials or professional affiliations are required.
Required fields are indicated by .