Summer 2023
If you are seeking fresh knowledge, new friendships, and a vibrant, intergenerational community—and you are 58 or over—then join the Boston University Evergreen program. As the name implies, Evergreen offers opportunities for continuous growth and engagement. Students can audit classes on the Charles River Campus or participate in specifically designed for Evergreen Seminar that cover a variety of topics.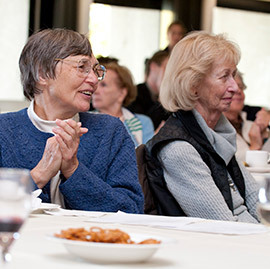 This summer, there will be two auditing terms, a walking tour of the BU Campus on May 22, and a One-Day on-campus celebration of summer on June 13.
Summer dates to audit courses:
Summer 1 – EVA101-015

Classes (and Enrollment) begin on Tuesday, May 23

Enrollment ends on Tuesday, May 30

Classes end on Friday, June 30

Summer 2 – EVA101-016

Classes (and Enrollment) begin on Wednesday, July 5

Enrollment ends on Tuesday, July 11

Classes end on Tuesday, August 15

Classes can be found on the Summer Term website here.
Look up Summer 1 classes that still have space here.
Please see the links below with helpful videos on the Evergreen program, searching for classes, and BU directory. Auditing is not permitted in the following courses: CPE, ENG, GMS, HUB, KHC, LAW, MED, PDP, SDM, SPH; creative writing; Food & Wine courses; any non-credit certificate courses; any online courses; any film production courses; any CFA courses not open to BU Public; CFA AR courses.
All Evergreen students are expected to comply with Boston University COVID-19 guidelines, including vaccination policy. Learn more here.
We look forward to welcoming Evergreen to campus.
Helpful Links
Note – If you have participated in Evergreen since July 2019, you already have an account based on your email address as your username (which may be different from your BU account). Login at Evergreen/CPE as a Returning Student. Do not create a new account. If you need help, contact us.
Required fields are indicated by .