Parking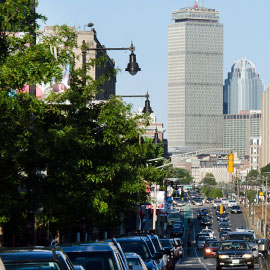 Students taking classes at Boston University's Charles River campus may purchase a white commuter student evening/weekend parking pass each semester. The pass is valid weeknight evenings after 2:30 p.m., and all day Saturdays and Sundays in many lots. Details and lot locations can be found at the Parking Services website.
A copy of your course registration and/or confirmation letter will be required to purchase the pass. Parking Services will include a brochure about parking on the BU campus with the pass. It is the student's responsibility to be familiar with the contents of the brochure. Students should make note of the expiration date of the permit, as it may be before the end of the course. For more information, visit the Parking Services General Information page, contact them at 617-353-2160, or visit their office at 1019 Commonwealth Avenue. Be sure to ask about prorated permits.
Center for Professional Education students must submit a hardcopy of the parking permit application. Online applications are currently unavailable with the Student Link.
New Rates for Student White Parking Pass
September 1, 2019 – August 31, 2020
Fall - $136.00
Spring – $160.00
Combined - $296.00
Summer - $120.00
Students must check with Parking Services for the specific dates of the semesters, as they may not match the CPE semester dates.
For information about public transportation to the Charles River Campus, visit the MBTA website. Boston University is accessible via the Green Line "B" train.
Required fields are indicated by .