Transcripts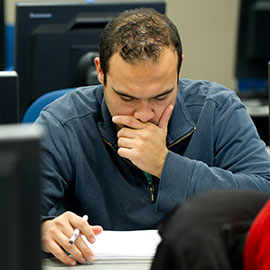 All courses and certificates offered through the Center for Professional Education are non-credit. Grades and transcripts are unofficial. Students can access their grades and transcripts through their Student View* account by going to Student Login. They are available under the Completed tab in My Enrollment History.
* Students who completed courses before July 2019, when our systems changed, or who have a special transcript need, can to request a transcript to be sent to them. Transcripts fulfillment usually takes two weeks, and unless requested otherwise, will be sent via secure email.
Please note we comply with Federal privacy guidelines regarding the release of grades.
Transcripts not maintained by CPE:
CADER and PEP classes offered through BU's School of Social Work Professional Education Programs – contact cader@bu.edu or thenetbu@bu.edu.
Computer Technology classes (1990's and early 2000's) taken in Chelmsford, Tyngsboro, and/or Tewksbury – contact the Corporate Education Group at info@corpedgroup.com or 978-649-8200 or 800-288-7246.
Digital Design classes taken in Waltham – contact BU College of Communication, Undergraduate Affairs Office, attention Abby Bodner at abodnar@bu.edu or 617-353-3471.
Questrom Digital at BU's Questrom School of Business, including edX courses - contact 617-353-9720.
Required fields are indicated by .